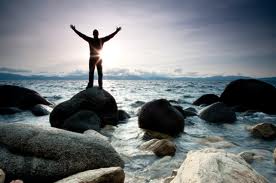 I'm so proud of my Revenue Breakthrough and Platinum clients.  They are using the tools I teach to get clients, do speaking events and really put themselves out there.
As I taught class on Tuesday, I noticed that many of them were experiencing fear, anxiety and discomfort around trying new things.
Many of my students are leaping beyond their comfort zones when it comes to marketing.  They are meeting with large companies, speaking in front of new groups and working with higher-level clients.
And the natural emotion from this kind of stretching is discomfort, fear and a bit of anxiety.  All emotions that are great signs of growth.
Here are three tips to reduce the discomfort:
1.  Entrepreneurship isn't about being perfect.  It's about experimentation.  We were all taught in school that you had to finish your paper perfectly prior to turning it in. So we spent ages working on that paper.  And we were mortified (and duly punished) when there were mistakes.  Entrepreneurship just isn't like that!  You have to make mistakes to learn.  There is no other way to play the game.
Even if you try your hardest to learn everything you need to be perfect, life will get in the way and you'll either adapt or fall on your face.    And the falling on your face usually comes first.
The fear and discomfort many of you feel has to do with your fear that you won't get it right or that you'll look stupid.
The truth is that you probably will mess up every now and then.  But then you'll pick yourself up and do it better next time.
So go out there and play big and know that it's all an experiment.
2.  Rest.  As a business owner, you mind is on all the time.  You are learning how to run your business better.  You are getting better at your trade.  You are working through your fears.  And all of this churning uses up quite a bit of mental and physical energy – more so than the average person who works a regular job.
So make sure you set up moments in your day and during the week to rest in the way that you need to rest.
It can mean that you watch episodes of your favorite TV show, eat popsicles, go for a walk, stare at the ceiling, play a video game – whatever works for you.
My personal favorite is to watch re-runs of Charmed and order in Afghan Kababs.  But clearly not everyone is like me (thank goodness).
The point is, do what you need to turn your brain off and really rest, even if it is only five minutes.   And don't let anyone make you feel guilty about it.
3. Celebrate the Journey.  It is easy to look at the steps in your business and only pay attention to the work that you have ahead of you.   And that can be pretty darn scary sometimes.  But take a moment and look at how far you've come.
Sometimes you need to look back at the starting line instead of wishing you were closer to the finish line.
Then go ahead and give yourself kudos.  Yup, brag a little – out loud.  Call a friend, post on facebook…give yourself a treat.  Acknowledge you.  You are the only one that can.
And know that if you got from there to here, you can definitely get from here to there.
Here's to your growth, your actions and taking it day by day.  The fear and discomfort may come, but now you've got some steps to help take it down a notch.