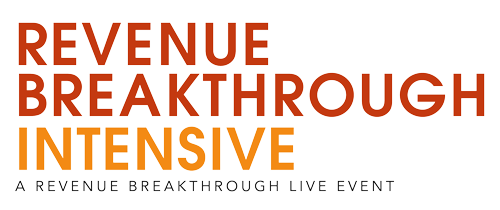 Don't breakthrough to the next level in your business alone – let's do it together!
When you decide to really "go for it" in your business, you've got a lot of decisions to make.
But often, it's hard to make all these decisions by yourself.
Because when you're smart, you run the risk of overcomplicating things.
What's your "fastest path to cash"? Where do you find your ideal clients? How do you raise your prices with integrity? What's your next step to breakthrough to the next level in your business… and how exactly do you DO that?
The good news is, you have another option…
Get my personal attention on YOUR business. In three days.
Maybe you've been trying to use the "one size fits all" advice you get from free recordings, short home study kits, 200 person group programs and 1000 person conferences (where you're anonymous).
And while you can get a lot of value out of those trainings, let's get real. There comes a point where you just need someone to take a look at YOUR business… and walk you step-by-step through YOUR next actions.
Wouldn't it be awesome to get market-tested guidance that takes into account what you've already created in your business… and shows you the step-by-step plan to get from there… to your ambitious goals?

Get the truth about your next steps to breakthrough in your business.
Without talking things through with other smart people, you can burn up a lot of time, energy and money on a project or a strategy that will NEVER work for you.
That's why I'm inviting you to say yes to a very special program with me: the Revenue Breakthrough Intensive.
Here's how it works:
I'm hosting 15 business owners who are committed to growing their business to 6 or multi-6-figures for two and a half days in New York City.
Each day, I'll teach essential business and financial skills you need to make your business work. And then each business owner will get individual time to present her biggest roadblock to the group—and get coaching from me (and feedback from the other smart people in the room) so she can leave it behind in the dust… and propel her business forward like never before.


Here are some commonly asked questions (and answers) to help you decide if this is for you…
How is this different from a Mastermind?
Maybe you've heard of business owners joining a "mastermind," where they gather in a group several times a year with a mentor or business coach. Typically, these programs are a year long, and cost tens of thousands of dollars.
Unlike traditional masterminds, the Breakthrough Intensive gives you the mastermind experience, without requiring a yearlong commitment. You get access to me as your coach—and valuable feedback from other business owners who are committed to growth, integrity, and upleveling their businesses, too.
In other words, you get the benefit of having other smart people's minds focused on your situation and goals… in a single, two and a half day experience. If you've never participated in a mastermind before, you are in for a powerful way of collaborating and getting EXACTLY what you need, without you having to do all the work.
Will Monica be teaching as well?
Yes! The complaint I hear most often from business owners in other masterminds is: "Monica, I feel like the group runs itself. I'm not getting help from an expert! I'm getting led by people who are at my level! It's the blind leading the blind."
I totally get that. So, I will be teaching throughout the course of the day and using each person's questions as "jumping off points" to show you strategies, systems and marketing ideas that are relevant to YOUR business.
This isn't a free-for-all. I lead. I guide. I coach. I teach. And I make sure you leave the room at the end of the day having learned more than you expected. You'll leave this experience with a full notebook, a full head and a full heart… and a fire in your belly to really go for it in your business!
So, what could you create from personal coaching with me -- and the other brilliant minds in the room?
You Could:
| | |
| --- | --- |
| | Create a specific 6-month marketing plan with dates, activities and the exact right order in which to do your launches to reach your goals |
| | Get clear – FINALLY! -- on the most lucrative target market for you and know how to explain what you do in a way that makes them want to hire you NOW |
| | Figure out what team members you need to hire to create more free time in your schedule, know where to find them and know how to write their job descriptions |
| | Release your fears around selling and marketing by working through your limiting beliefs in a supportive environment, and learn exactly how to close the sale 80% of the time |
| | Whatever YOU need to breakthrough in your business, monetize your activities, and move forward like never before… |
Certainty will make you rich.
Imagine what it would be like to be able to stop guessing in your business. Imagine feeling 100% certain that you know where you are going. Imagine knowing EXACTLY what you need to be doing each day – no more doubting yourself, and no more guesswork.
You'll connect with other ambitious business owners who are true movers and shakers. You'll go home with new JV partners, new friends and a collection of people that will support you to reach your biggest, boldest, juiciest goals.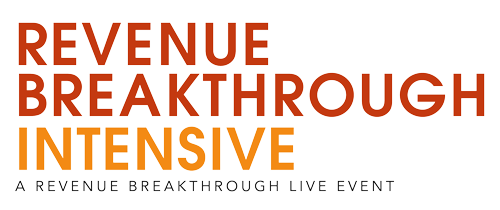 GET MY SEAT!
Yes, Monica I'm ready to get individual attention and
create my breakthrough plan with you.
February 14th-16th
Revenue Breakthrough Headquarters
Brooklyn, New York

$995

or 2 payments of $550
This payment is non-transferrable to a future event or program because of the popularity of this program. We fill our spots quickly and must honor every seat. 
I'm so glad I get to meet you in person.
With much appreciation,

Copyright © 2018 Monica Shah and RevenueBreakthrough.com™ | All rights reserved.