Isn't it time YOU were the speaker everyone wants to buy from?
A speaker who has the power to move people so much, they actually feel different after you've spoken.
CLARITY. CONFIDENCE. CHARISMA.
YOU INSPIRE.  YOU TRANSFORM.  YOU SPEAK FROM YOUR HEART.
If you're reading this page, my guess is
YOU WANT TO DO MORE SPEAKING
Maybe you're a total beginner to speaking.
You've had some success in your business, and you want to get in front of more people…
But you keep holding back because you don't have your talk figured out, or you don't have the presentation skills, or you feel like you haven't practiced enough. Maybe the thought of going to a boring speaking training seminar or class is completely unappealing.
Or maybe, you're just shy or scared, or an introvert who doesn't love the spot light (trust me – I totally get that).
Or maybe you're experienced… but you're not SELLING the way you'd like to.
You may have a degree of flow and ease in front of an audience already. And maybe you really enjoy speaking!
But for some reason, your pitches aren't converting well.
You feel like you should be closing more of the room, but you're not sure what's wrong.
Or maybe you're just not sure how to GET speaking gigs.
You've heard advice about joining organizations to get on their roster… but you don't have time to join yet another group.
And the truth is, landing speaking gigs has gotten more difficult in the past few years. The old tactics simply aren't working like they used to.
It's time to get some new speaking engagements + room-filling strategies.
GET IN-DEPTH public speaking TRAINING
(plus loads of practice time) – for 3 full days in nyc.
I created this public speaking training event because speaking did NOT come naturally to me.
When I first started, I had ZERO speaking skills.
I'm a lifelong introvert who grew up feeling more comfortable speaking to animals than to other human beings. So getting up in front of a room full of people was one of the biggest challenges I've ever faced in my business.
My presentation was awkward.
My pitches were painful.
I didn't even know how to walk on or off the stage!
(My event planner used to make me practice until I could sit down and stand back up gracefully and comfortably.)
Let's just say, I have some killer trainwreck stories.
And believe me – my self-confidence took some major hits when things didn't go well in front of a lot of people.
So why did I keep doing it?
Because speaking gives you one of the highest returns on your time.
It's one of the fastest ways to grow your business – and one of the fastest ways to create more free time for yourself.
So I forced myself to stick with it, learning through trial and error.
And I got better. Much better.

If I was able to go from mega-awkward on stage to hosting some of the most highly regarded events in my industry – you can, too.

If we create a setting where you're able to practice, practice, practice – you'll feel much more comfortable + confident when it's Go Time.
Now, my "practice time" was always in front of a real, live audience –
an audience full of potential clients.
But I wanted to create a setting where YOU can practice your signature talk and receive guidance before you're in front of potential buyers…
Which is why you're invited to…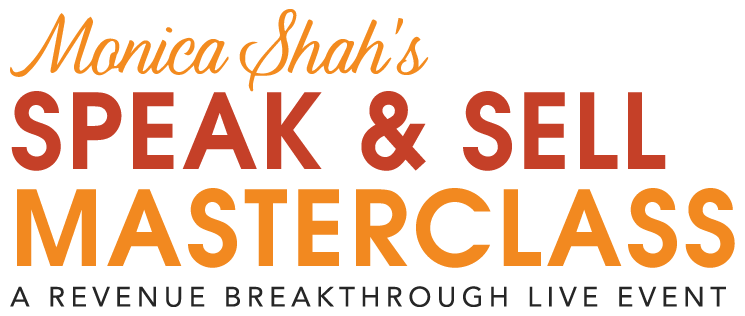 A 3-day intensive training in New York City for 15 business owners who are ready to
master the art of speaking (and selling) from the stage.
September 12-14, 2018 | Brooklyn, NY
The Speaking Masterclass gives you exclusive access
to personal coaching with me.
Create a clear, in-depth outline for a Signature Talk that sizzles.
Hammer out a Signature Introduction Story that creates instant, lasting rapport.
Get the exact script on how to sell with impact in front of a live, in-person audience.
Discover the secrets to reading a room (so you have a constant connection with your audience).
Learn how to put together an irresistible Speaker Information Sheet for pitching to organizations, partners, and speaking venues.
Get live practice time in front of Monica and the entire group (you'll have multiple chances to practice + get direct feedback).
Discover how to build a Website Speaker Page that has organizations seek YOU out to speak.
Get Monica's personal checklist for everything you MUST do directly before your event begins to ensure you're comfortable in the space + to avoid potential tech hiccups.
Craft 3 attention-getting titles for potential topics you can pitch when looking for speaking gigs.
Find out how to GET speaking engagements – where to find them + how to book them + how much to charge.
Learn how to follow up with attendees after your events, so you can keep closing your new, hottest leads.
"I now feel ready to speak from the stage."
The beauty of the Masterclass was the small and intimate setting. I got the coaching and advice I needed without feeling rushed or overlooked. After completing the Speaking Masterclass I had the confidence to create a full 1-day workshop and now feel ready to speak from the stage about what I have to offer.
Marquette Grant-Bragg
I'm hosting 15 business owners who are committed to getting in front of more (and bigger) audiences, & using speaking to growing their business to 6 or multi-6-figures.
The Speaking Masterclass lasts for 3 full days.
Each day, I'll teach essential speaking skills you need to become the kind of speaker who not only entertains and connects with her room – but who also CLOSES the room.
Throughout the Masterclass, each business owner will get individual time to practice, live, in front of the group – and get coaching from me (plus, feedback from the other smart people in the room).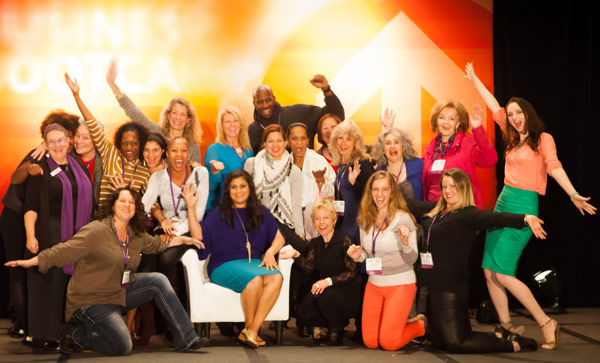 It's a truly unique opportunity for you to…
get actual experience in front of an audience…
see how your content & pitch land…
and receive immediate feedback…
…all in a safe space
designed to stretch your skills + comfort levels.
Imagine stepping out on stage,
and OWNING the room.
What could a single high-converting speaking event do for you?
When you're a masterful speaker, potential clients are able to connect with you in a way they simply can't through any other medium.
Which means they're much more likely to buy from you… and they're much more likely to buy your higher ticket programs.
And when you look at the value of just one new client – that could easily amount to anything from $500, up to multiple thousands of dollars.
(I've had event attendees who have turned into clients worth tens of thousands of dollars over the years.)
Now, imagine closing more than just one client at each speaking event…
You can quickly see how speaking can become one of the biggest, most profitable cornerstones of your business.
"I'm booked for various speaking opportunities!"
I needed to get over my dread of speaking in front of groups. The Speaking Masterclass was the missing puzzle piece in my ability double my income and increase my brand awareness. I'm no longer afraid of talking in front of groups, and I am being approached and booked on various speaking opportunities — including televised events. I also feel confident commanding more money for these events.
Jeanie Engelbach
DATES: September 12-14, 2018
DAY 1: 9am – 5pm | DAY 2: 9am – 9pm* | DAY 3: 9am – 4pm
(*Day 2 includes dinner & a fun evening activity)
LOCATION: Revenue Breakthrough Headquarters in Brooklyn, NY


The Revenue Breakthrough GUARANTEE
Attend the first full day and be completely satisfied, or come to us by 5:00pm that day and get your money back (plus dinner on me!) Take in every moment. Take notes. Network like crazy. At the end of the first full day, if the Speaking Masterclass was not worth your investment, I will refund your entire investment – plus dinner. So you risk nothing. Not a single penny. (There are no refunds or transfers.)
I'm so glad I get to meet you in person.
With much appreciation,

"We practiced, practiced, and practiced!"
I already knew the structure for a solid talk, but I hadn't practiced it very often. At the Speaking Masterclass, we practiced, practiced, practiced – and got immediate feedback from Monica. I feel SO much more comfortable stepping onto a stage to talk about my business. I know I can lead an entire workshop – whether it's 1 hour, 3 hours, or an entire day.
Cheryl Binnie
Monica Shah is a 7-figure business coach and holds an MBA from the Kellogg School of Management. She provides entrepreneurs with business strategy and practical tools to help them surpass their income goals and create their ideal lifestyles.