Kyira A. Harris
On target to make $200,000 this year.
The Intensive Day really helped me to become laser focused on what I need to do to achieve my goals.  Monica has been a fantastic guide. I am on target to make US$200,000 this year.  I've become more organized, and I've increased my team. 
Monica provides great information and ideas, which I follow to the tee.  To be more successful, I must follow success.  Monica has created a plan for me to get to that success!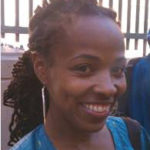 Keys to Abundant Life, Inc. | KeysToAbundantLife.com