Money 2.0. It's been my signature event for the last 3 years. And every year the event teaches me more in that three days then I can even quantify.
I thought I'd share some of my lessons with you: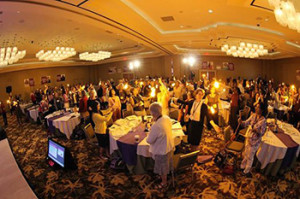 1. Worrying doesn't help. Before the event I worry about everything. I grew up in a family of professional worry-ers and I have a Masters degree in it. Will there be enough people in the room? Will the content work? Will they like me? Will the sponsors be happy? Is the team OK? The list goes on and on.
Before this event, every time I worried I put it into action – calling another person, coming up with another new idea to put people into the room, focusing on that which was most important.
And it worked! We filled the room with happy participants. I had a blast teaching the content!
Lesson: Turn your worry into action. Now.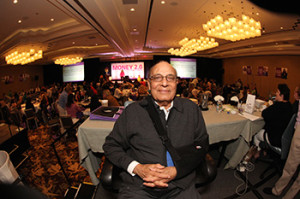 2. Include Your Loved Ones. This year my dad came to see Money 2.0. It was the first time he got to see me in action. He also attended our team meetings after the event. I know that for him, it changed everything to see me in action. He finally could see the reason I was on the phone (which must have seemed like all the time) and meet my clients.
At first, he wasn't sure he could come. It was my partner, Jai who encouraged him to come, let him know that he should really be there. My Dad thanked Jai after the event.
We have a tendency as entrepreneurs to exclude our loved ones because they don't understand what we do and because they don't seem excited to come and see us.
Sometimes they need a little bit of encouragement.
I've come to realize that having them understand isn't so important, but letting them see what you do is. And a little encouragement goes a long way.
Lesson: Take your loved ones to a speaking event, meeting or encourage them to sit in on a teleseminar. It gives them a chance to see you in your greatness and allows them to be able to support you all that much more. Don't be put off if they aren't excited – they will be afterwards.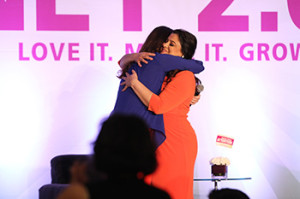 3. Listen to that Voice. There were moments at the event that I listened to that voice inside my head. The one that said, "teach this, don't teach that." Or "go walk in the room right now." Or "don't use that slide."
Honestly – those were the best moments of the event.
And there were moments where I was afraid to go off the grid – where I didn't listen to that voice and trust my experience.
These moments were the ones I wish I could change.
So much of being an engaging speaker is connecting. Connecting to your voice. Connecting to spirit. Connecting to your audience. Connecting to your content.
But it's hard to trust that connection all the time and follow it, especially for 3 straight days. In fact, it's taken me over 3 years to learn to trust and follow that connection in a consistent way. At this event – I did it about 99% of the time. But that 1% – that's work for next time:-).
Lesson: Trust yourself. And don't be afraid to go off the grid when that little voice beckons.
I could go on and on – and there will be more articles about the preparation and planning for the event – with lessons you can use as you plan your own business.
But for now: take action, include your loved ones and listen to that voice!
Leave me a comment and let me know what you think – I love your comments!
{ 0 comments }