How to Stop Those Self-Sabotaging Voices in Your Head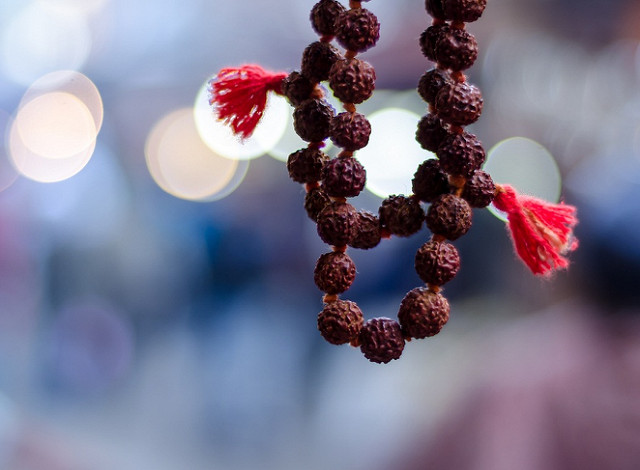 I've been going through the Bhagavad Gita lately.
It's the 700-verse Hindu scripture that tells the story of how Lord Krishna teaches the prince Arjuna about the concept of dharma.
It's the 3rd time I've read it. The first time was when I was 18, then again in my 20's and now. Every time I read it – I find myself looking at life differently. I find myself surrendering to the moment and opening my heart to feel a greater sense of love and possibility.
Dharma has many meanings in different religions (duty, virtues, the path of righteousness), but the one that resonates with me most is —
Your dharma is your unique path in the world.
Your path is often related to gifts you had as a child, but while your gifts aren't the path itself — they are pointers and directors, to help you find your path.
This idea feels especially timely for me in this era of "uber successful online entrepreneurs."
Because I think we've gotten lost watching other people's paths.
We compare ourselves to the people we see on Facebook and Instagram.
We try to copy our favorite business owners — their website design, their programs, their messaging, even the exact inflections they use in their videos. (And we often do it without realizing it.)
We've forgotten how to find our own path.
I see this happen so often with my clients.
But the thing is — we have so much work to do in the world! So many talents that need to get out there. So much to get accomplished!
And that's only going to happen when you learn how to step into your own, unique style of leadership.
That's why I'm leading my Women, Entrepreneurial Leadership and Money event today at my Brooklyn offices. It's an intimate group of us – working through our own definitions of leadership.
One of the blocks that I've seen coming up with these amazing women is the self sabotaging beliefs that we carry about not being able to be successful. The best way to release these self-sabotaging beliefs is to replace them with supportive ones.
I've given you a list of the supportive beliefs that can really help.
Please read the list aloud. Then close your eyes and breathe into it. If you are into visualizing – visualize the beliefs coming down from above and actually landing in your body.
And for your analytical minds – know that every phrase comes from dozens of examples of women who have really had this kind of success in my tribe.
I can run a successful business and still have a family.
I can end work at 3:30 and still be the primary breadwinner.
I can have a difficult conversation with my partner – ask for what I want – and create a deeper love between us for it.
I can be firm, assertive (and even mean, sometimes) and still be beautifully feminine.
I don't have to work alone.
I can spend money on myself – even if I've lost it in the past – and trust that this time it will be money well spent.
I am allowed to reach out and ask for help, even if I don't really know how to.
I can learn anything, at any time.
If we continue to follow our dharmas, our own unique paths and taking action in the world – this world will look like a different place.
Here's to releasing the doubts that stand in our way and moving into massive action towards creating everything we want and deserve in our lives.
Photo: flickr, Amit Kakkar